Mr. Dennis J. Anderson, Interim Superintendent of Schools
Phone: 609 383-6800
anderson.dennis@pps-nj.us
Dr. Garnell Bailey, Assistant Superintendent
Phone: 609 383-6800
bailey.garnell@pps-nj.us
Mr. Elisha Thompkins, Business Administrator/
Board Secretary
Ms. Karin R. Farkas, Director of Special Services
News & Announcements
Summer Hours: 8:00 a.m. to 4:30 p.m. Monday thru Thursday.
All schools are closed on Friday during the summer
.
North Main CARE Summer Program Students
working on a LEGO S.T.E.M Project.
C.A.R.E. Summer Program Leeds Ave Site
Working on drawing out the landscape for infrastructure project
C.A.R.E.'s Introduction to Mechanical Drawing / Architecture. The "E" in S.T.E.A.M. ( Engineering ) Blueprints.
The blueprints will be used for the Small City Infrastructure Project. Each C.A.R.E. site will create a blueprint, and construct a Small City / Community.
Care Instructor: Mr. Marlon Hargis
Pleasantville's Sahmir Jones is the Press's 2019 male Athlete of the Year
Click here for full story on Sahmir.
PAA Administrator of the Year
Teresa McGaney-Guy is the principal of North Main Street School (NMSS) and has held various positions within the district. From the inception of her career in education, her passion and previous positions held in the educational field has steadily advanced and prepared her for her current position. Serving as a teacher for several years, Teresa was also a summer enrichment supervisor, reading facilitator, assistant principal and interim director of special projects.
In 2001, she was awarded the Teacher of the year at Leeds Avenue School; selected by Phi Delta Kappa for the Educational Excellence Award in 2015; and selected by the National Association of Negro Business and Professional Women's Clubs, Inc. in 2016 for the Professional Achievement Award.
In addition to her individual awards, Teresa and her staff at the NMSS School has received the Apple ConnectED grant, Lowes Playground grant, T-Mobile grant and the Model Classroom Grant. The Model Classroom Grant has created an opportunity to partner with Stockton University to improve literacy.
Under her leadership, NMSS was featured in two episodes of NJ Classroom Close Up, whereas the "Change is Here" episode was nominated for an Emmy, while The Peace Zone at NMSS was featured in the NJEA Review.
Her educational experiences have afforded her the opportunity to collaborate with a diverse group of people to meet the common goal of increasing student achievement and well-being. Her educational philosophy is based on her uncompromising belief that given a positive learning environment, strong and knowledgeable leadership, a committed and focused educational team, an encouraging community, and a supportive family, ALL STUDENTS CAN LEARN.
Pleasantville High School
Class of 2019 Top 10 Recicipents
1. Jennifer Ozoria 2. Khushi Shah 3. Karina Rojas-Sandoval 4. Keny Exantus
5. Nairobi Dunson 6. Katia Guadalupe-Marin 7. Grisel Ruiz-Castillo
8. Kevin Evangelista 9. Odalis Hernandez 10. Quentin Bundy
Middle School of Pleasantville
Class of 2019 Top 10 Recicipents
1.Joshua Gonzalez 2.Laura Bermudez-Ortiz 3. Xuan Liao 4. Jonathan Baez
5. Aleesha Ortiz 6. Veronica Rodriguez 7. Evangelina Lopez
8. Luz Roco-Portillo 9. Nahomy Brizuela-Maldonado 10. Britney Thomas
DISTRICT TEACHER OF THE YEAR 2019
Pleasantville C.A.R.E. Program Summer Camp begins
July 8, 2019 - August 16, 2019 - Monday - Friday 8:30 AM - 3:30 PM
Students must be in grades 4th through 12th
The Last day of Afterschool C.A.R.E. is Friday, June 7, 2019
FREE Pre-K Registration is now OPEN! Morning: 9:00 AM - 12:00 PM
Afternoon: 1:00 PM - 3:00 PM Monday - Thursday 16 W. Leeds Avenue
(Next to Leeds Ave. School)
Pleasasntville Public Schools 2019-2020
Teacher of the Year, Educational Service Professional of the Year, and
Educational Support Professional of the Year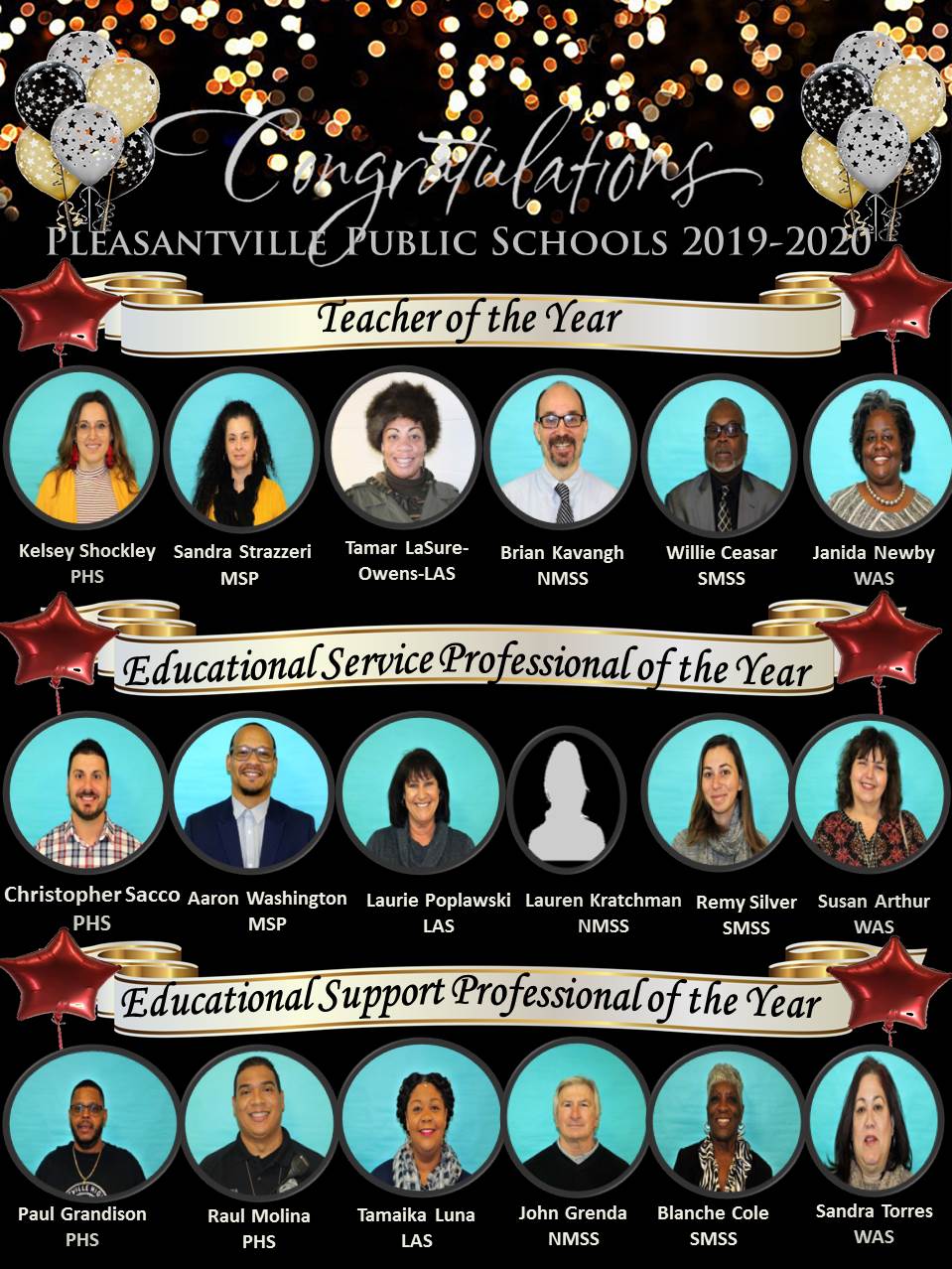 Professional guidance, assessment and an educational program are all available free for eligible children. For more information please contact the Pleasantville Public Schools District Child Study Team office at
383-6800
ext. 2240 or ext. 2241.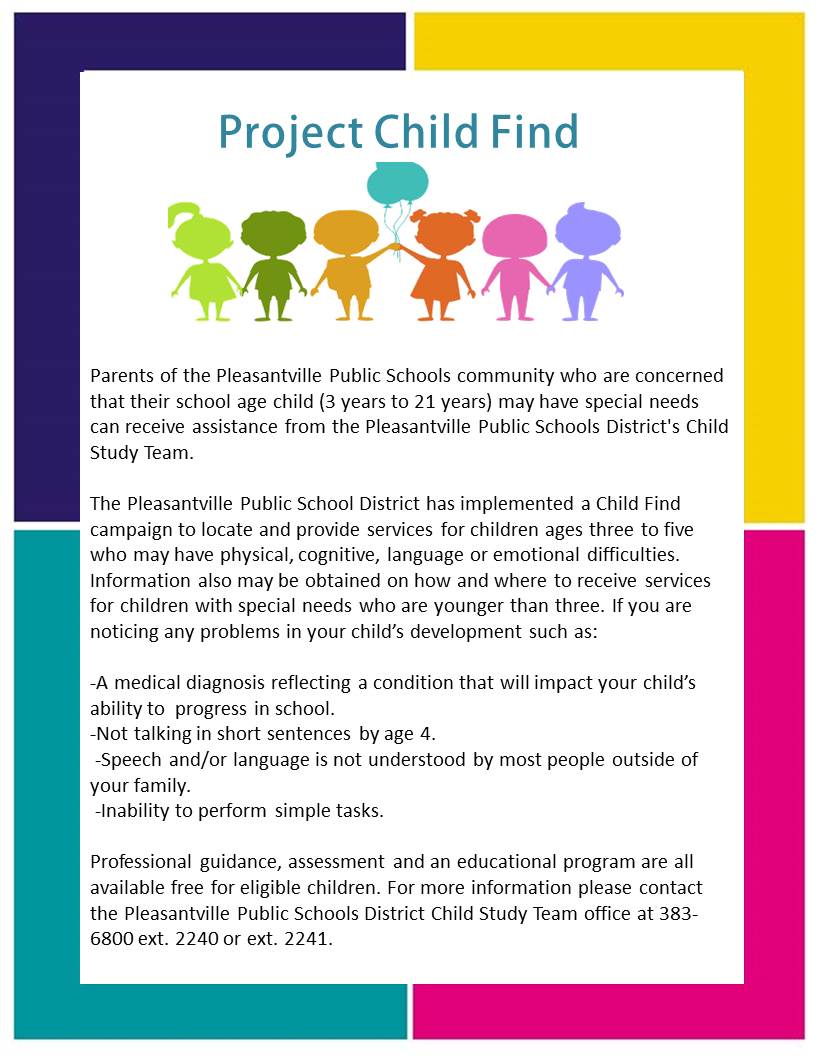 Attention! Pleasantville Public Schools Important Notice Regarding Road Construction.
Please click the links below for details.
IMPORTANT NOTICE REGARDING ROAD CONSTRUCTION
ON OR ABOUT MAY 14TH 2018 SOUTH JERSEY GAS WILL BEGIN
IT'S REMEDIATION PROJECT WHICH WILL INVOLVE SEVERAL
ROAD CLOSURES STARTING AT NORTH FRANKLIN BVD. AND
OLD TURNPIKE. THESE CLOSURES WILL EFFECT ALL TRAFFIC
INCLUDING ALL SCHOOL BUSES. PLEASANTVILLE TRANSPORTATION
STAFF WILL BE INSTRUCTING PARENTS AND STUDENTS TO ALTERNATE
PICKUP AND DROP OFF STOPS AS NEEDED. THANK YOU IN ADVANCE FOR
YOUR PATIENCE FOR THIS WILL CAUSE DELAYS THRU THE END OF THIS
CURRENT SCHOOL YEAR AND INTO THE UPCOMING SCHOOL YEAR.
SHOULD YOU NEED ANY MORE INFO REGARDING THIS PROJECT PLEASE
FOLLOW THE LINKS PROVIDED BY SOUTH JERSY GAS.