School Store "The Dog Pound"
Administrative Team
Alma Mater
Calendar
Community
edConnect NJ
Greyhound Academy
Guidance
High School HIB SELF-ASSESSMENT (pdf)
High School Home
Media Center
Mission
Parent Page
PBSIS
Photo Gallery
SAT Question of the Day
Scholarships
Sports
Student Handbook
Teacher Websites & Calendars
Technology Service Request
701 Mill Road

Pleasantville, NJ 08232

Kelvin Cherry, Interim Principal

Sherry Spence-Leslie, Assistant Principal

Edward Bonek, Assistant Principal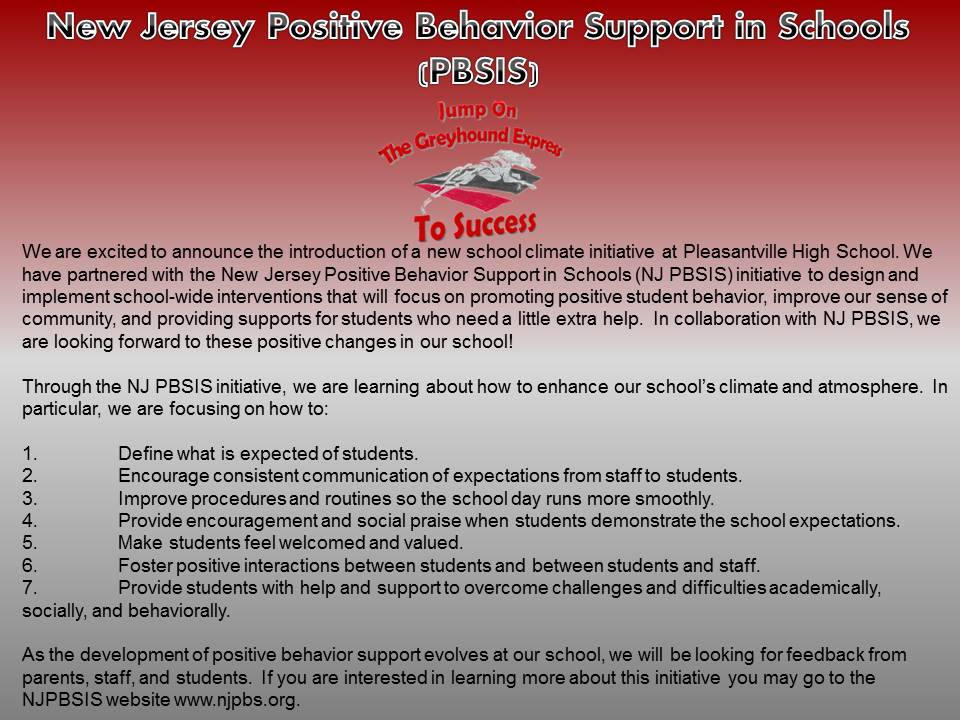 ---
Pleasantville High School is committed to excellence in education. Our curriculum is aligned to the New Jersey Core Curriculum Standards, as well as regulations and specifications outlined in NCLB. These standards shape our curriculum and provide focus for our instruction. Our mission seeks to: educate teachers, staff, parents, board members and the community to facilitate optimal learning for all students and to enable them to lead fulfilling and productive lives in our changing and complex society.
Coming Up!
Tue Aug 16
» 6:00 PM BOE Action Meeting - Pleasantville High School Cafeteria
Tue Sep 6
» First Day of School for Students - DISMISSAL- PHS - 12:05PM, MSP - 1:30PM, All Elementary Schools - 1:05PM
Wed Sep 7
» EARLY DISMISSAL- PHS - 12:05PM, MSP - 1:30PM, All Elementary Schools - 1:05PM