<!- box:side-1 -->
High School Home
Calendar
School Store 'The Wolf Pack'
PHS Early College
Administrative Team
Alma Mater
Community
edConnect NJ
Freshman Academy
Guidance
HIB Self-Assessment (pdf)
JROTC
Media Center
Mission
NJ School Performance Report 2018-19
Parent Page
PBSIS
Photo Gallery
SAT Question of the Day
Scholarships
Sports
Student Handbook
Teacher Websites & Calendars
Technology Service Request
Title IX
Pleasantville High School
Welcome to PHS Home of the Greyhounds

701 Mill Road
Pleasantville NJ. 08232
(609) 383-6900
Howard Johnson, Principal
Andrea Atkins-Turner, Assistant Principal
Rayna Hendricks, Assistant Principal
School Hours: 7:20 am – 2:10 p.m.
Early Dismissal: 12:33 pm
Delayed Opening 9:15 a.m. – 2:05 p.m.
In effect when announced by the Superintendent of Schools.
~Facebook:

HOW TO ADOPT A SENIOR 👩🏽‍🎓🧑🏾‍🎓👨🏽‍🎓
⭐️A parent or senior posts the seniors Bio, including, sports, favorite subject, academic achievements and really anything to be proud about
⭐️Find the senior you want to adopt and in their comment section comment "I want to adopt this senior"
⭐️The senior will private message you, with more information. For example, fav snacks, stores, and address. You can arrange a pick up or drop off date and location; whatever the poster is comfortable with.
⭐️Your gift can be a one time gift or smaller ones. It can be BIG or SMALL. It's totally up to you! This is where it can get FUN, be creative!
⭐️Please take a photo and post to this FB page so we can all enjoy celebrating our seniors together
*THIS PAGE IS ONLY FOR PHS CURRENT SENIORS ONLY PLEASE*
Most importantly - PLEASE SHARE THIS PAGE WITH ANY PHS SENIOR SO THEY GET CAN THE SPECIAL
LOVE THEY DESERVE DURING THIS TOUGH TIME!!!!
#PHSGREYHOUNDS
#Greyhoundpride

https://www.facebook.com/groups/1097451543956076/?multi_permalinks=1102542393446991¬if_id=1590158403062481¬if_t=feedback_reaction_generic&ref=notif
Way to Go Gabriel!
Boys winter track: Pleasantville's Gabriel Moronta blazes past competition in 800m at MofC
Moronta Pleasantvill H.S. Indoor Track and Field
wins the 800m run in time of (1:52.46) at the New Jersey Meet of Champions held at the Oceanbreeze Complex in Staten, NY. Click here for more on Moronta
Congratulations!
PHS Black History Month Arts Poster Contest
"Then and Now"
The picture shows Mayank Mistry and Eric Terrones to the left - 3rd prize, Olma Ducasse in the middle - 1st prize and Melissa Stewart on the right as 2nd prize.
Pleasantville High School's Structured Learning Experience Program (S.L.E.)
This course gives graduating seniors an opportunity to explore career options that are parallel to their career interests. Students who are enrolled in this course are placed in various agencies and/or businesses within Pleasantville, and the surrounding communities in which they job shadow. Students are identified as interns with some placements being paid or unpaid. These students are given a hands on real life experience while preparing to transition from high school to college, and/or trade or technical school.
Congratulations!
Boys varsity basketball made it to the quarter finals...
Greyhound Pride!
Congratulations!
JROTC Drill Team Win
Saturday February 29, 2020 the Greyhounds JROTC Drill team competed against 20 schools in The Lenape Invitational/ South Jersey League drill Competition and the 2nd Brigade JROTC Regional Drill Competition (Challenge Division). The Greyhounds had almost perfect scores in most of the events. Lenape High School got the overall win, but the Greyhounds were very close and easily took home 2nd place in the South Jersey League Competition. The Greyhounds also closed out there regular season drill with a 2nd place in our league for the school year.
In the 2nd Brigade JROTC Regional Competition, the Greyhounds swept all 3 events in the Unarmed Division and all 3 events in the Armed Divisions with six 1st place wins and 1 Unarmed Individual Drill win by Cadet Command Sergeant Major Cristianna Rojas.
The next stop for the Greyhounds Drill Team is the Army National Championships in Richmond Virginia March 19-22. Wish them luck!
Below are the wins and the team leaders for each event. I also attached several pictures.
Click here to view the wins and the team leaders for each event.
DISTRICT TEACHER OF THE YEAR 2019
Teacher, Educational Service Professional, and Educational Support Professional of the Year

Students: you will need your login and password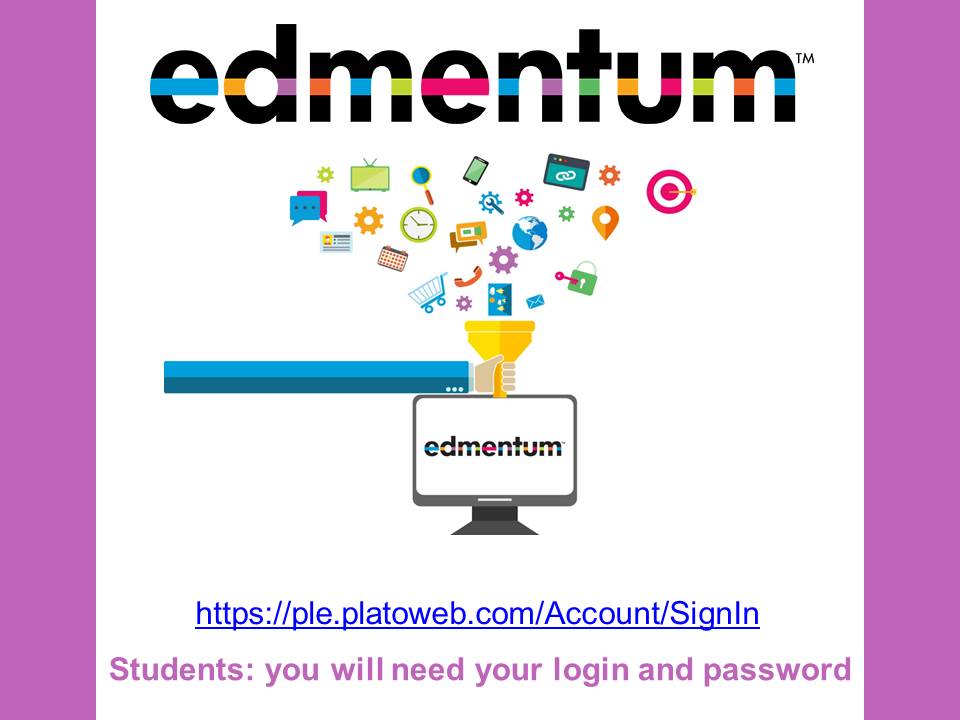 NJ Positive Behavior Support in Schools (PBSIS)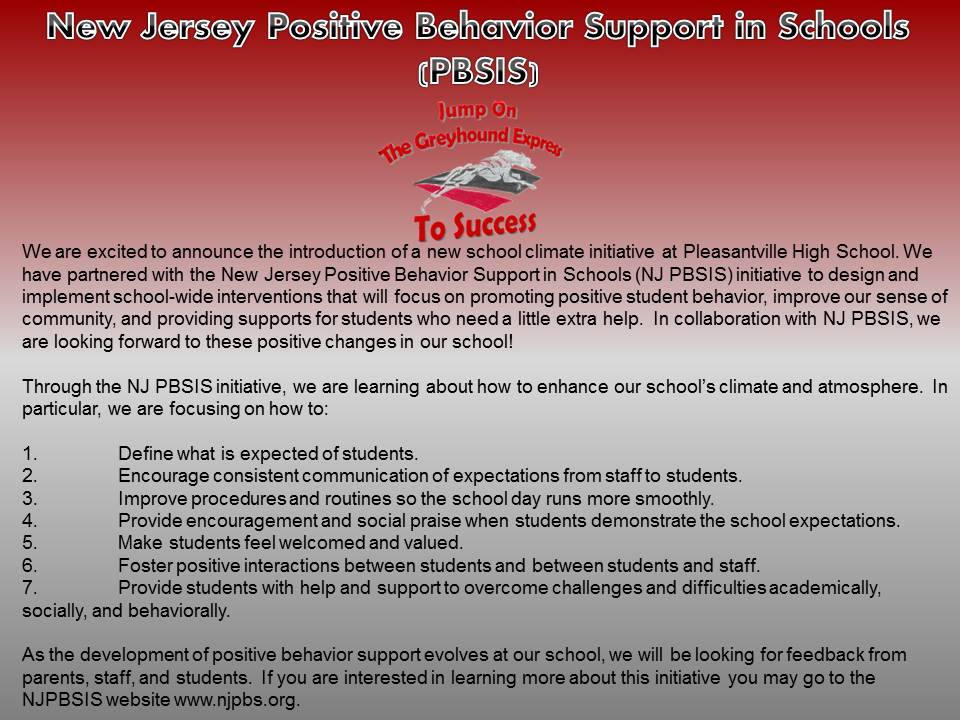 The Pleasantville School District does not restrict or discriminate based on any race, color, sex, national origin or students with disabilities from participation in any district program, employment decisions or PHS career programs.
---
Pleasantville High School is committed to excellence in education. Our curriculum is aligned to the New Jersey Core Curriculum Standards, as well as regulations and specifications outlined in NCLB. These standards shape our curriculum and provide focus for our instruction. Our mission seeks to: educate teachers, staff, parents, board members and the community to facilitate optimal learning for all students and to enable them to lead fulfilling and productive lives in our changing and complex society.