<!- sidebar-file='/sites/www.pps-nj.us/web/pps/_zumu_sidebar.html' --> <!- box:side-2 -->
Quick Links
Anti-Bullying Resources
21st CCLC - C.A.R.E
Employee Evaluation Information
Parents Right to Know
Parent - Student Portal
Photo Gallery
Purchasing
QSAC DPR
Statement of Assurances
Teacher Resources
Technology Service Request
Title I Programs
Title IX
U: CEPA
WeatherNet
<!- box:side-2 -->
Employment
Employment
Employment Online Application Portal
<!- box:side-2 -->
Logins
Login to Google Email
Employment Online Application Portal
Oncourse Access
Parent - Student Portal
<!- box:side-2 -->
Budget Info
User Friendly Budget 2019-2020
User Friendly Budget 2018-2019
User Friendly Budget 2017-2018 (pdf)

Mr. Dennis J. Anderson, Interim Superintendent of Schools
Phone: 609 383-6800
anderson.dennis@pps-nj.us
Dr. Garnell Bailey, Assistant Superintendent
Phone: 609 383-6800
bailey.garnell@pps-nj.us
Mr. Carmine C. Bonanni, Interim Assistant Superintendent
Mr. Elisha Thompkins, Business Administrator / Board Secretary
Ms. Karin R. Farkas, Director of Special Services
---
News & Announcements
Middle School of Pleasantville
Back to School Night Program
Wednesday, September 18, 2019
Parents and Guardians,
In the interests of gathering stakeholder input regarding our students' career readiness, we are asking you to complete the survey at the links provided below. Please have yousurvey completed and submitted by September 13.
If you have any questions, please call 609-376-9097 or
County Office of Career Readiness
SENIOR PORTRAITS
Pleasantville High School
Portrait Dates: September 18th – 20th
Location: Auditorium A notification card with student's individual appointment will be mailed home approximately 2 weeks prior to the session.
Need to change your appointment, please call 1-800-687-9327 (M-F 8:30am – 4:30pm) or schedule.prestigeportraits.com. Please have your 8 digit appointment code available.
PLEASANTVILLE PUBLIC SCHOOLS
2019-2020 SCHOOL YEAR BELL SCHEDULE
HIGH SCHOOL -

School Hours: 7:20 am – 2:10 p.m.




Early Dismissal: 12:33 pm
MIDDLE SCHOOL - School Hours: 8:10 am – 2:31 p.m.
Early Dismissal: 1:07 pm
ALL ELEMENTARY SCHOOLS - School Hours:
PreK students will be dismissed at 2:45 pm
Congratulations!
PAA Administrator of the Year
Teresa McGaney-Guy
Teresa McGaney-Guy is the principal of North Main Street School (NMSS) and has held various positions within the district. From the inception of her career in education, her passion and previous positions held in the educational field has steadily advanced and prepared her for her current position. Serving as a teacher for several years, Teresa was also a summer enrichment supervisor, reading facilitator, assistant principal and interim director of special projects.
In 2001, she was awarded the Teacher of the year at Leeds Avenue School; selected by Phi Delta Kappa for the Educational Excellence Award in 2015; and selected by the National Association of Negro Business and Professional Women's Clubs, Inc. in 2016 for the Professional Achievement Award.
In addition to her individual awards, Teresa and her staff at the NMSS School has received the Apple ConnectED grant, Lowes Playground grant, T-Mobile grant and the Model Classroom Grant. The Model Classroom Grant has created an opportunity to partner with Stockton University to improve literacy.
Under her leadership, NMSS was featured in two episodes of NJ Classroom Close Up, whereas the "Change is Here" episode was nominated for an Emmy, while The Peace Zone at NMSS was featured in the NJEA Review.
Her educational experiences have afforded her the opportunity to collaborate with a diverse group of people to meet the common goal of increasing student achievement and well-being. Her educational philosophy is based on her uncompromising belief that given a positive learning environment, strong and knowledgeable leadership, a committed and focused educational team, an encouraging community, and a supportive family, ALL STUDENTS CAN LEARN.

District Teacher of the Year 2019
Congratulations!
PHS Kelsey Shockley
FREE Pre-K Registration is now OPEN!
Morning: 9:00 AM - 12:00 PM
Afternoon: 1:00 PM - 3:00 PM
Monday - Thursday
16 W. Leeds Avenue
(Next to Leeds Ave. School)
Congratulations!
Pleasasntville Public Schools 2019-2020
Teacher of the Year, Educational Service Professional of the Year, and
Educational Support Professional of the Year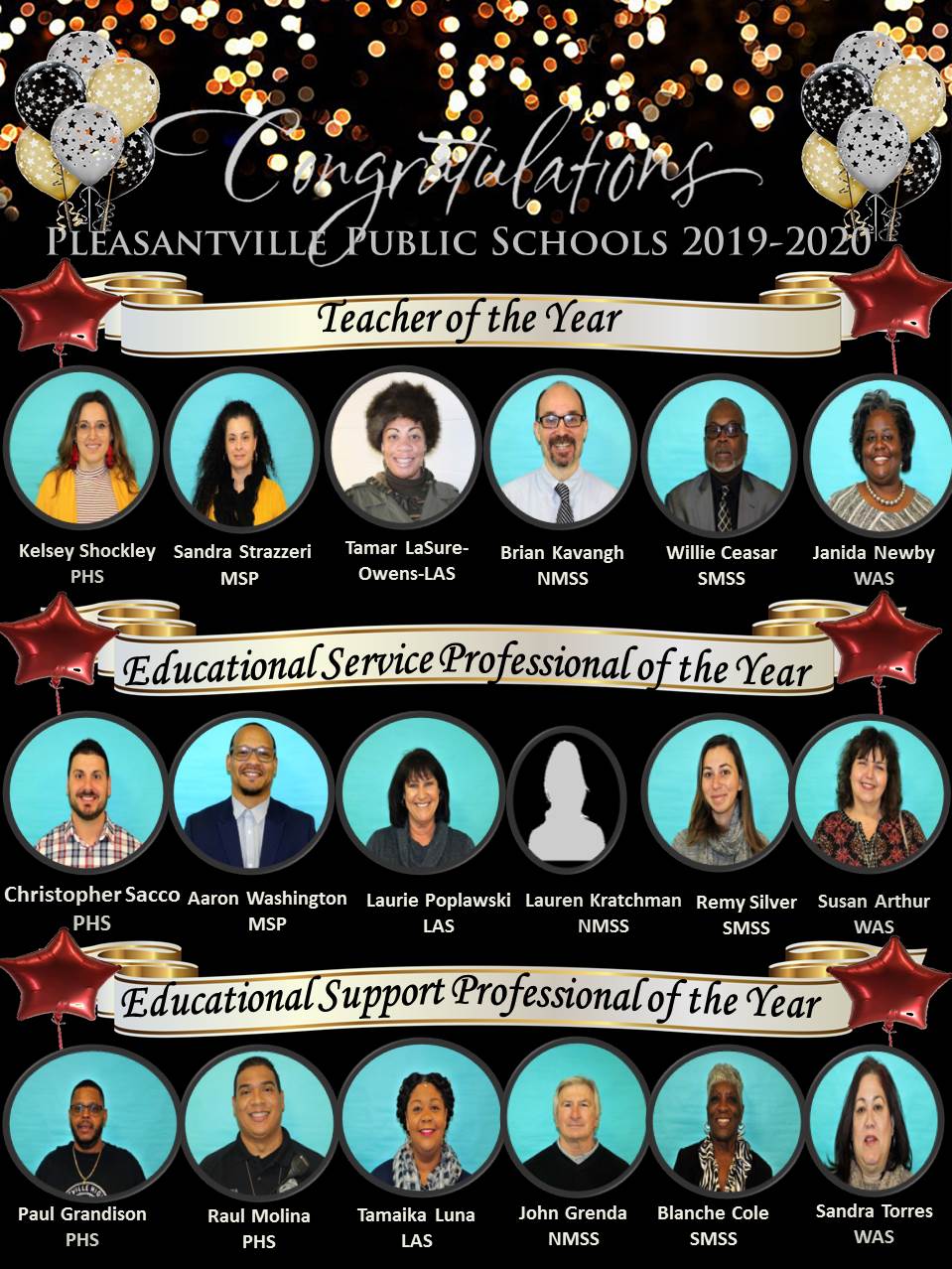 Project Child Find
Professional guidance, assessment and an educational program are all available free for eligible children. For more information please contact the Pleasantville Public Schools District Child Study Team office at
383-6800
ext. 2240 or ext. 2241.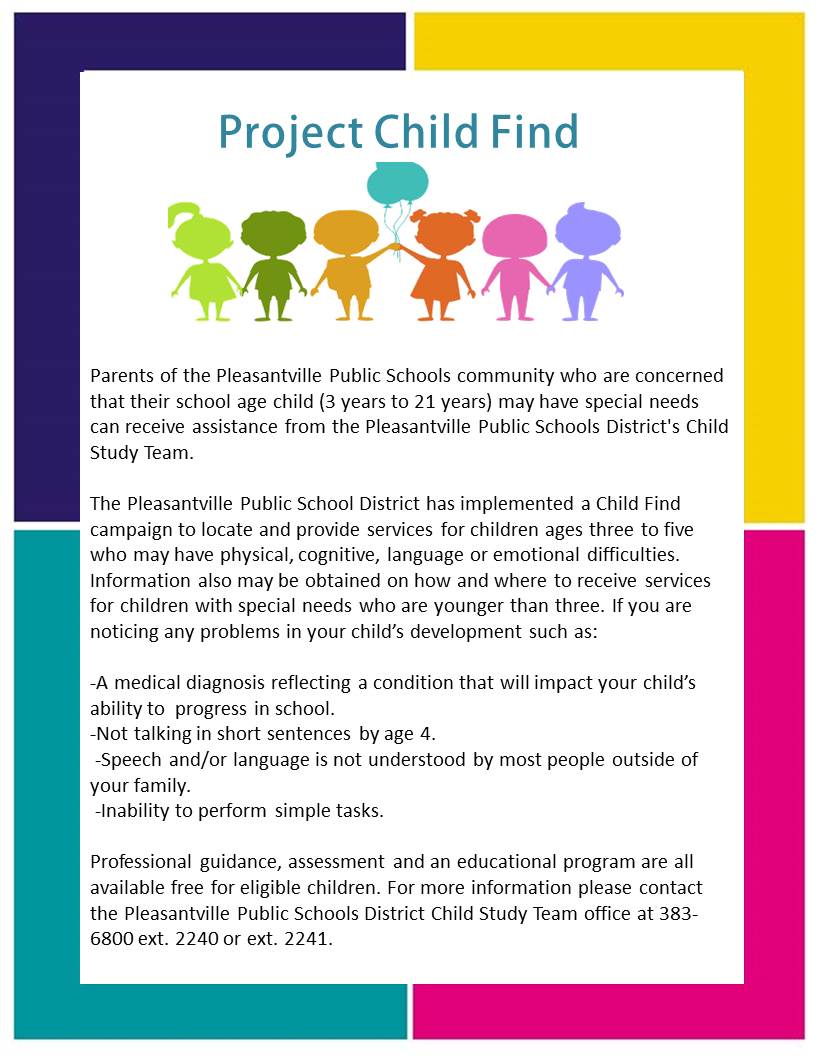 School Performance Report 2017-2018
School Performance Report 2017-2018
Elementary Grading and Assessment Handbook
Standard-Based Report Card Frequently Asked Questions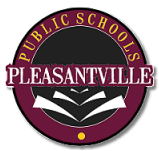 Professional Development Plan
The professional development plan for the 2018-19 school year.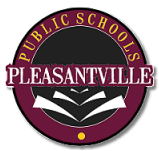 District Strategic Plan 2018-19
Including Superintendent and District Goals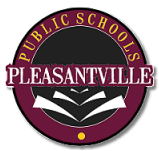 Comprehensive K-12 Guidance Plan
For the school year 2018-19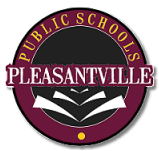 Comprehensive Equity Plan 2016-2019
This plan will help to provide equality and equity in educational programs.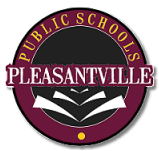 District Technology Plan 2016-2019
Board approval August 16, 2016 meeting.
If your child should be crawlng, walking or talking but isn't call

call for information about resources and services for your child

under age 3. Statewide, toll -free 888-653-4463

The Pleasantville School District does not restrict or discriminate based on any race, color, sex, national origin or students with disabilities from participation in any district program, employment decisions or PHS career programs.



Coming Up!
Today:
Mon Sep 16
» WAS - Flu Shots by Rite Aide
» LAS - Follett Back to School Book Fair Begins
Tue Sep 17
» 9:00 AM SMSS - PTO Meeting
» 5:00 PM BOE Action Meeting - Pleasantville High School Cafeteria
Wed Sep 18
» 6:00 PM PHS - Back to School Night
» 4:30 PM MSP - Back to School Night
» 9:00 AM WAS - Title One Parent Workshop
» LAS - USA Snacking Fundraiser Starts
» 6:00 PM LAS - Back to School Night
» 5:00 PM LAS - PTO Meeting
Thu Sep 19
» 5:00 PM SMSS - Back To School Night
Fri Sep 20
» SMSS - Water Ice Sale $1
Mon Sep 23
» LAS - Follett Book Fair Ends
» SMSS - Surry Book Fundraiser Begins
Tue Sep 24
» 5:30 PM WAS - Back to School Night
Wed Sep 25
» 6:00 PM NMSS - Back to School Night
Fri Sep 27
» 6:00 PM LAS - PTO-Family Movie Night-$2
Board Meeting Dates
All meetings begin at 5:00 pm and are held in the Pleasantville High School Cafeteria.
Sept 17, 2019 -

Action Meeting

Oct 15, 2019 -

Action Meeting

Nov 12, 2019 -

Action Meeting

Dec 10, 2019 -

Action Meeting