Dr. Clarence Alston, Superintendent of Schools
Phone: 609 383-6800
alston.clarence@pps-nj.us
Dr. Garnell Bailey, Assistant Superintendent of Human Resources
Phone: 609 383-6800
bailey.garnell@pps-nj.us
Mr. Elisha Thompkins, Business Administrator/
Board Secretary
Phone: 609 383-6800
Dr. Noëlle Jacquelin, Director of Curriculum and Instruction
Phone: (609) 383-6800 x2399
Ms. Karin R. Farkas, Director of Special Services
(609) 383-6800 ext. 2240/2241
News & Announcements
Pleasantville School District Surveys
Pleasantville Public Schools
Have a Safe and Enjoyable Spring Break from
Dr.Clarence Alston, Superintendent of Schools &
The Pleasantville Board of Education
Class will resume April 29th at the regularly scheduled time!
SPRING BREAK
C.A.R.E. Program will be open during Spring Break
(Transportation will NOT be provided during this time)
April 23rd through April 26th
Arrival: 8:30 am at (Pleasantville High School)
Pick up Time: 3:30 pm from (Pleasantville High School)
Parents must provide lunch for students
Parents mus provide transportation to and from the High School
BREAKFAST WILL BE SERVED DAILY!
MSP 8th Grade Carver
Senior Living Community Service Project
The 8th grade Carver students completed their second service project of the year.
Over the past two months, students and staff donated over 800 home and personal
care items for the Village at St. Peter's Senior Housing collection. The 72 residents in
this building are independent-living, low-income senior citizens.
Today, 16 students visited the residents, delivered the donated items, and spent quality time with the residents. The mayor, Mr. Jesse Tweedle Sr., stopped by to speak to the students also.
The staff and residents of the building were blown away by our students. We received many compliments about their behavior, character and professionalism. The residents expressed their gratitude and appreciation for the student visit and donation by hand-making each student a keepsake pillow.
Overall, the project was a huge success.
Thank you to everyone who contributed!
Pleasantville Public Schools
A group of Staff and Students proudly cheer on Mohamed Torue at his Rutgers University Spring Game... Kudos Mohamad
The Pleasantville High School Jazz Band received a Silver rating at the Mainland Regional High School Jazz Festival! Our trombones were recognized as the Best Section and our drum set player Charles Lyles was given the award of Best Soloist.

On Friday, April 12th the PHS Jazz Band and Directions Dance Company performed for residents at the Caring Inc. Adult Health Care Center to celebrate Jazz Appreciation Month!

R.U.T.A. Reciepents for successfully completing the Rowan Urban Teacher Academy.
Pleasasntville Public Schools 2019-2020
Teacher of the Year, Educational Service Professional of the Year, and
Educational Support Professional of the Year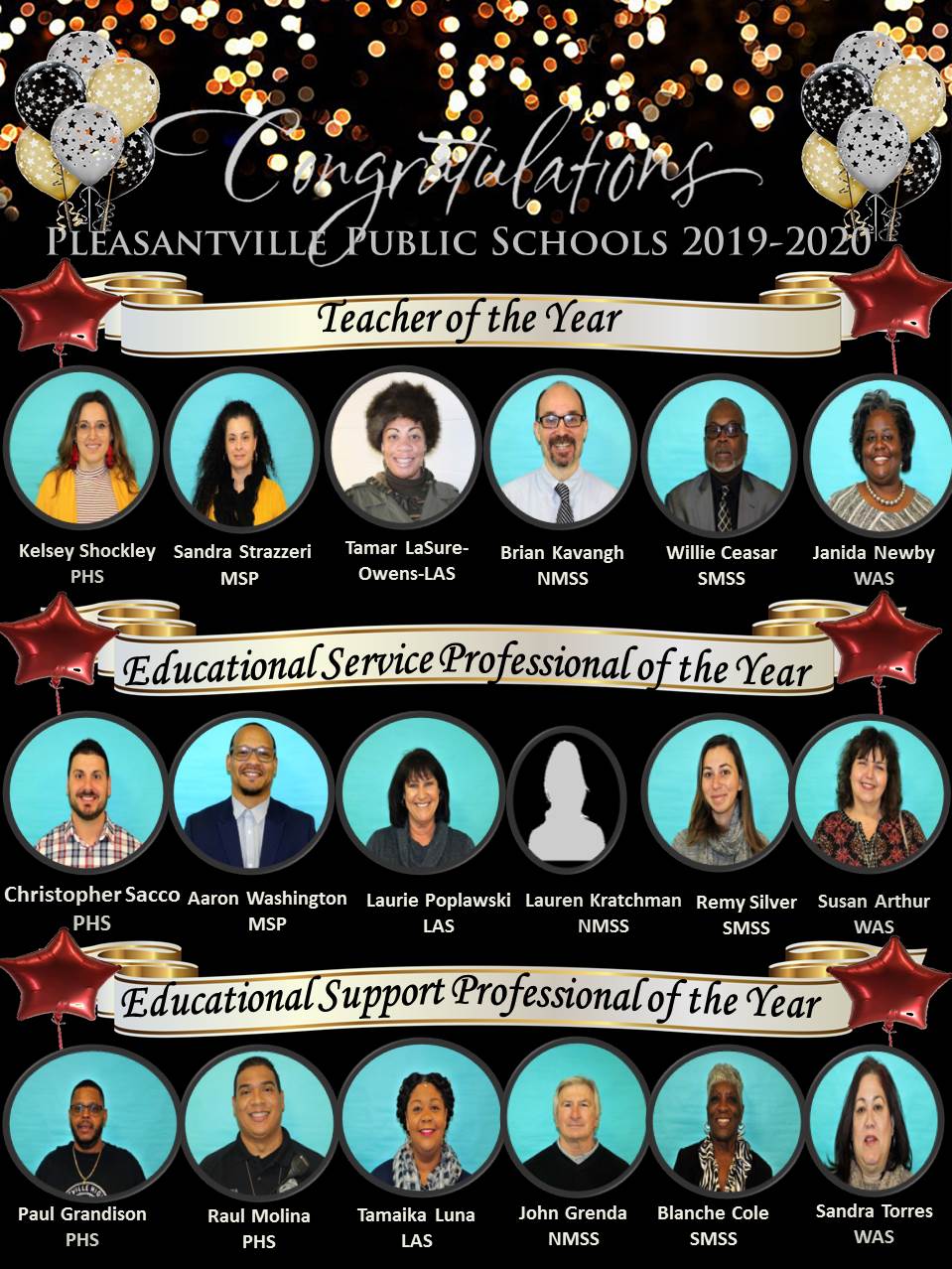 Professional guidance, assessment and an educational program are all available free for eligible children. For more information please contact the Pleasantville Public Schools District Child Study Team office at 383-6800 ext. 2240 or ext. 2241.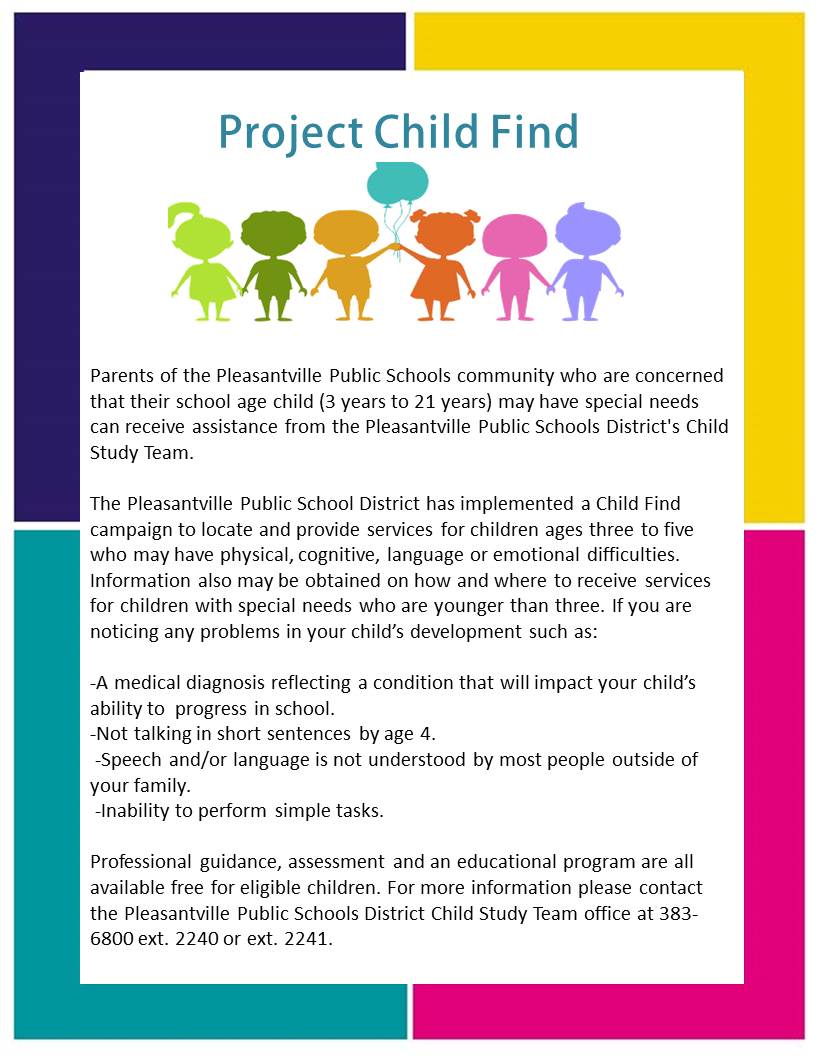 FREE Pre-K Registration is now OPEN! Morning: 8:30 AM - 12:30 PM
Afternoon: 1:30 PM - 3:30 PM Monday - Thursday 16 W. Leeds Avenue
Attention! Pleasantville Public Schools Important Notice Regarding Road Construction.
Please click the links below for details.
IMPORTANT NOTICE REGARDING ROAD CONSTRUCTION
ON OR ABOUT MAY 14TH 2018 SOUTH JERSEY GAS WILL BEGIN
IT'S REMEDIATION PROJECT WHICH WILL INVOLVE SEVERAL
ROAD CLOSURES STARTING AT NORTH FRANKLIN BVD. AND
OLD TURNPIKE. THESE CLOSURES WILL EFFECT ALL TRAFFIC
INCLUDING ALL SCHOOL BUSES. PLEASANTVILLE TRANSPORTATION
STAFF WILL BE INSTRUCTING PARENTS AND STUDENTS TO ALTERNATE
PICKUP AND DROP OFF STOPS AS NEEDED. THANK YOU IN ADVANCE FOR
YOUR PATIENCE FOR THIS WILL CAUSE DELAYS THRU THE END OF THIS
CURRENT SCHOOL YEAR AND INTO THE UPCOMING SCHOOL YEAR.
SHOULD YOU NEED ANY MORE INFO REGARDING THIS PROJECT PLEASE
FOLLOW THE LINKS PROVIDED BY SOUTH JERSY GAS.