Pleasantville NJ. 08232
Constance Chapman, Assistant Principal
School Hours: 7:30 am – 2:05 p.m. – Early Dismissal: 12:05 pm
Delayed Opening 9:15 a.m. – 2:05 p.m.
In effect when announced by the
Superintendent of Schools.
Pleasantville Public Schools
A group of Staff and Students proudly cheer on Mohamed Torue at his Rutgers University Spring Game...
Kudos Mohamad
The Pleasantville High School Jazz Band received a Silver rating at the Mainland Regional High School Jazz Festival! Our trombones were recognized as the Best Section and our drum set player Charles Lyles was given the award of Best Soloist.
On Friday, April 12th the PHS Jazz Band and Directions Dance Company performed for residents at the Caring Inc. Adult Health Care Center to celebrate Jazz Appreciation Month!
R.U.T.A. Reciepents for successfully completing the Rowan Urban Teacher Academy.
Teacher, Educational Service Professional, and Educational Support Professional
Of the Year
Congratulations to Pleasantville High Schoo'sl Army JROTC
The Pleasantville High School Army JROTC closed out their drill season with 45 awards won in 7 competitions in South Jersey. They also received their second consecutive invitation to the U.S. Army JROTC Drill Championships to compete with the best of the best in Richmond, Virginia.
The team says farewell to graduating seniors Jennifer Ozoria, David Moran and Pedro Gomez.
Congratulations to a successful drill season!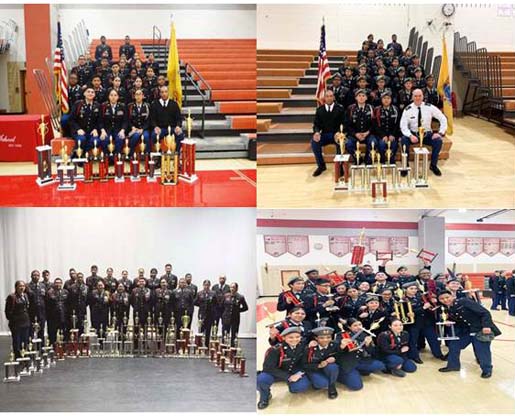 Overall Wins
Individual Event Wins
2 - 1st Place 13 – 1st Place
2 – 2nd Place 13 – 2nd Place
3 – 3rd Place 12 – 3rd Place
Students: you will need your login and password