<!- sidebar-file='/sites/www.pps-nj.us/web/pps/Board/_zumu_sidebar.html' --> <!- box:box-7 -->
Board
Board of Education Main Page
Board Agendas
BoardDocs
Board Meeting Sign In (pdf)
Board Minutes
Board Bylaws, Policies, and Regulations
Doctrine of Necessity
Gifted & Talented
Meeting Dates
Mission Statement
Superintendent's Report
OPRA Request Form (pdf)
ALERT 213 Policy & Regulation (pdf)
| | | |
| --- | --- | --- |
| | | |
| Doris Rowell | Sharnell Morgan | |
| | | |
| | | |
| | | |
| Anny Melo | Elysa Sanchez | |
Pleasantville Board members recognize the enormous responsibility they have in setting the course for the district and strive to make informed decisions. Pleasantville Board member responsibilities include:
Setting policy
Establishing goals
Adopting yearly operating budgets for the school district.
Board Members are not responsible for the day-to-day operation of the schools.
Pleasantville Board of Education
Central Administrative Offices
801 Mill Road, Third Floor, P.O. Box 960
Pleasantville, New Jersey 08232-0960
May 11, 2023
PUBLIC NOTICE
Notice of Vacancy for Pleasantville Board of Education Member
The Pleasantville School District is seeking a qualified resident of the City of Pleasantville to fill a vacancy for an unexpired term on the Board of Education, which will run through December 31, 2023. Interested candidates must meet the following qualifications:
N.J.S.A. 18A:12-1 Qualifications of Board Members
Board Members shall be citizens and residents of the constituent district (Pleasantville) for at least (one) year prior to appointment.
Board Members must be able to read and write.
Board Members shall b registered to vote in the district, and notwithstanding the provisions of N.J.S. 2C:51-1, or any other law to the contrary
Not disqualified as a voter pursuant to NJSA 19:4-1.
Not disqualified to be a board member because of conviction for a crime or offense listed in N.J.S.A. 18A:12-1
Board Members shall not be interested directly or indirectly in any contract with or claim against the Board.
Interested applicants should email a letter of intent and resume to Mrs. Daile Dixon-White, Board Secretary at white.daile@pps-nj.us. Deadline for application is on or before noon on May 31, 2023. A tentative date to interview candidates is set for June 13, 2023.
By Order of the Pleasantville Board of Education
Mrs. Doris Rowell, Board President
Mrs. Daile Dixon-White, Business Administrator/Board Secretary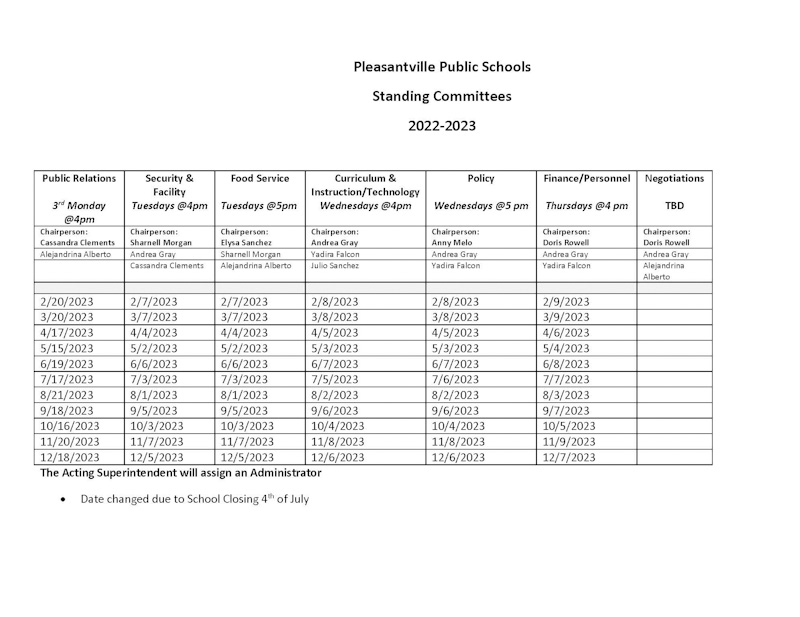 All meetings begin at 6:00 pm, and are held in the Pleasantville HIgh School Cafeteria.
June 13, 2023 - Action Meeting

July 11, 2023 - Action Meeting

August 08, 2023 - Action Meeting

September 12, 2023 - Action Meeting

October 10, 2023 - Action Meeting

November 14, 2023 - Action Meeting

December 12, 2023 - Action Meeting