<!- sidebar-file='/sites/www.pps-nj.us/web/pps/Parents and Students/_zumu_sidebar.html' --> <!- box:box-7 -->
Parents and Students
Parents and Students Main Page
22-23 School Calendar (pdf)
2021-2022 District Calendar Revised 4-12-2022 (3) Final (3) (pdf)
Attendance Department
2021-2022 Meal Application - English (pdf)
2021-2022 Meal Application - Spanish (pdf)
ONLINE MEAL APPLICATION
Food Service - Breakfast & Lunch Menus
Acceptable Use Policy Students
Chromebook-iPad Care Recommendations.jpg (pdf)
Chromebook_iPad Student_Parent Agreement 2021 (1)_Page_03
Student Media Consent and Release Agreement
Student & Parent Hot Spot Loan Agreement Page_04
Student Perceptions Survey
Oncourse Access
Sports Schedules
Bilingual & ESL
21st CCLC - C.A.R.E.
QSAC
Title I Programs
District Report Cards
Common Forms
21st Community Learning Center C.A.R.E.
801 Mill Road
Pleasantville, NJ 08232

The Pleasantville School District does not restrict or discriminate based on any race, color, sex, national origin or students with disabilities from participation in any district program, employment decisions or PHS career programs.
Community Sites
Leeds Avenue School
Barbara Maysonnett - Site Coordinator

100 West Leeds Avenue
Pleasantville, NJ 08232

South Main Street School
Beatrice Moore- Site Coordinator

701 South Main Street
Pleasantville, NJ 08232

North Main Street School

Mark Santanello- Site Coordinator

215 North Main Street

Middle School of Pleasantville
Curtis Hicks-Site Coordinator

801 Mill Road
Pleasantville, NJ 08232

Washington Avenue School

Ashley Gonzales - Site Coordinator

225 W. Washington Ave

Pleasantville High School

Ronert Anderson- Site Coordinator

701 Mill Rd.
All Elementary Schools (3:15pm-6:00pm)
Middle School (3:30pm- 6:30pm)
CARE SUMMER Registration Forms - English & Spanish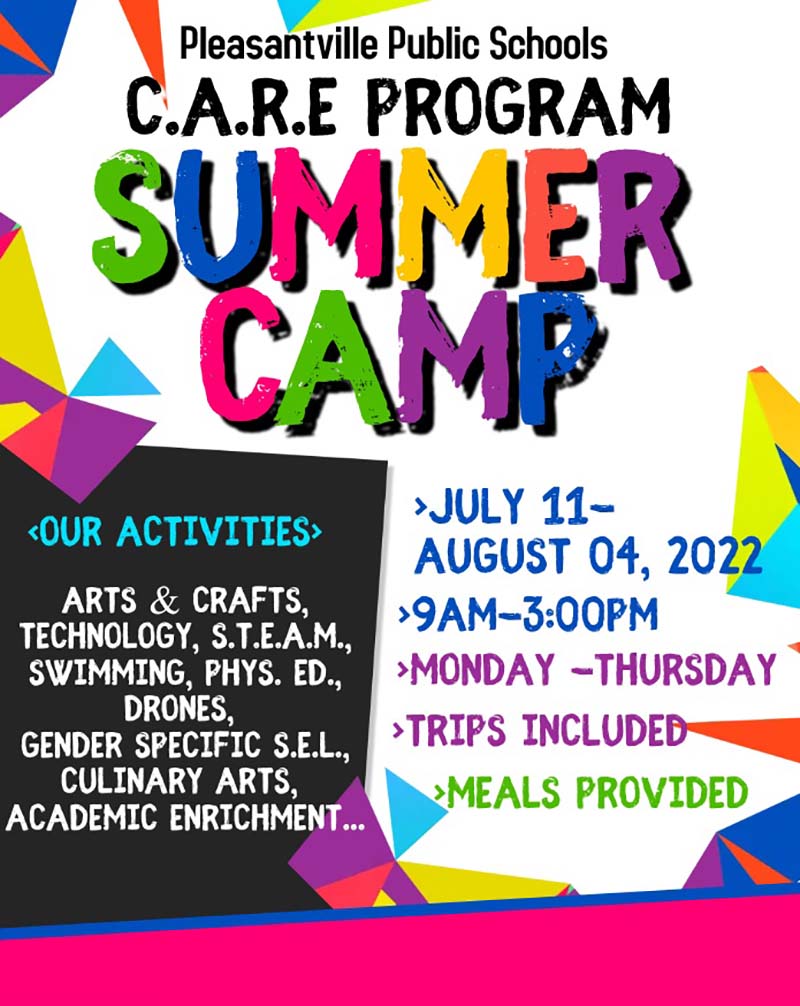 Please be advised, all students, staff and parents must take and complete this very important survey The survey must be completed Wednesday, June 8th, 2022.
Year-End Survey Links
South Main C.A.R.E Program

was evaluated by our Grant Monitor.
The Instructors served Turkey Grill Cheese sandwiches, and used the cooking activity as a S.T.E.M. exercise.
Measurements of ingredients, and the amount needed to serve the number of attendees.
The (math) component of S.T.E.M.
Everyone in attendance enjoyed the sandwiches and experience.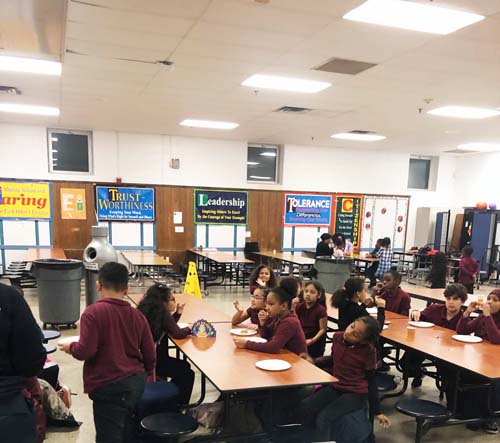 Field Trip Permission Forms:
| | | |
| --- | --- | --- |
| IMG_1964001 | IMG_1984 | IMG_1980 |
| IMG_1976 | IMG_1972 | IMG_1967 |
| IMG_1964 | IMG_1962 | IMG_1957 |