Dr. Clarence Alston, Superintendent of Schools
Phone: 609 383-6800
alston.clarence@pps-nj.us
Dr. Garnell Bailey, Assistant Superintendent of Human Resources
Phone: 609 383-6800
bailey.garnell@pps-nj.us
Mr. Elisha Thompkins, Business Administrator/
Board Secretary
Phone: 609 383-6800
Dr. Noëlle Jacquelin, Director of Curriculum and Instruction
Phone: (609) 383-6800 x2399
Ms. Karin R. Farkas, Director of Special Services
(609) 383-6800 ext. 2240/2241
News & Announcements
Pleasantville School District Surveys
Pleasantville Public Schools
Closed
May 27, 2019 Memorial Day Observed
Schools Re-Open May 28, 2019
Full day at it's regularly scheduled time.
C.A.R.E. Program is

CLOSED
May 27, 2019 Memorial Day Observed
May 28, 2019 C.A.R.E is

CLOSED
The C.A.R.E. Program will resume on
PHS Juniors/Seniors Prom 2019
"A Night in Disguise"
May 25, 2019 7:00 PM at the Greate Bay Country Club
Somers Point, NJ
PHS Juniors/Seniors 2019 Prom Night Red Carpet
May 25, 2019 5 to 6 PM PHS Gymnasium
All community members, staff, students, family and friends, come out, show support, and take lots of pictures of this years prom attendees.
The Middle School's production of
Do You Wanna Dance? Jukebox Musicals
May 29-30. 2019 at 7:00 p.m. on MSP Stage
Tickets: $5 Adults & $3 Students
DISTRICT TEACHER OF THE YEAR 2019
Middle School of Pleasantville ClassH-Room
Date: Friday, May 24, 2019
Pleasantville C.A.R.E. Program Summer Camp begins
July 8, 2019 - August 16, 2019 - Monday - Friday 8:30 AM - 3:30 PM
Students must be in grades 4th through 12th
The Last day of Afterschool C.A.R.E. is Friday, June 7, 2019
FREE Pre-K Registration is now OPEN! Morning: 9:00 AM - 12:00 PM
Afternoon: 1:00 PM - 3:00 PM Monday - Thursday 16 W. Leeds Avenue
(Next to Leeds Ave. School)
Pleasasntville Public Schools 2019-2020
Teacher of the Year, Educational Service Professional of the Year, and
Educational Support Professional of the Year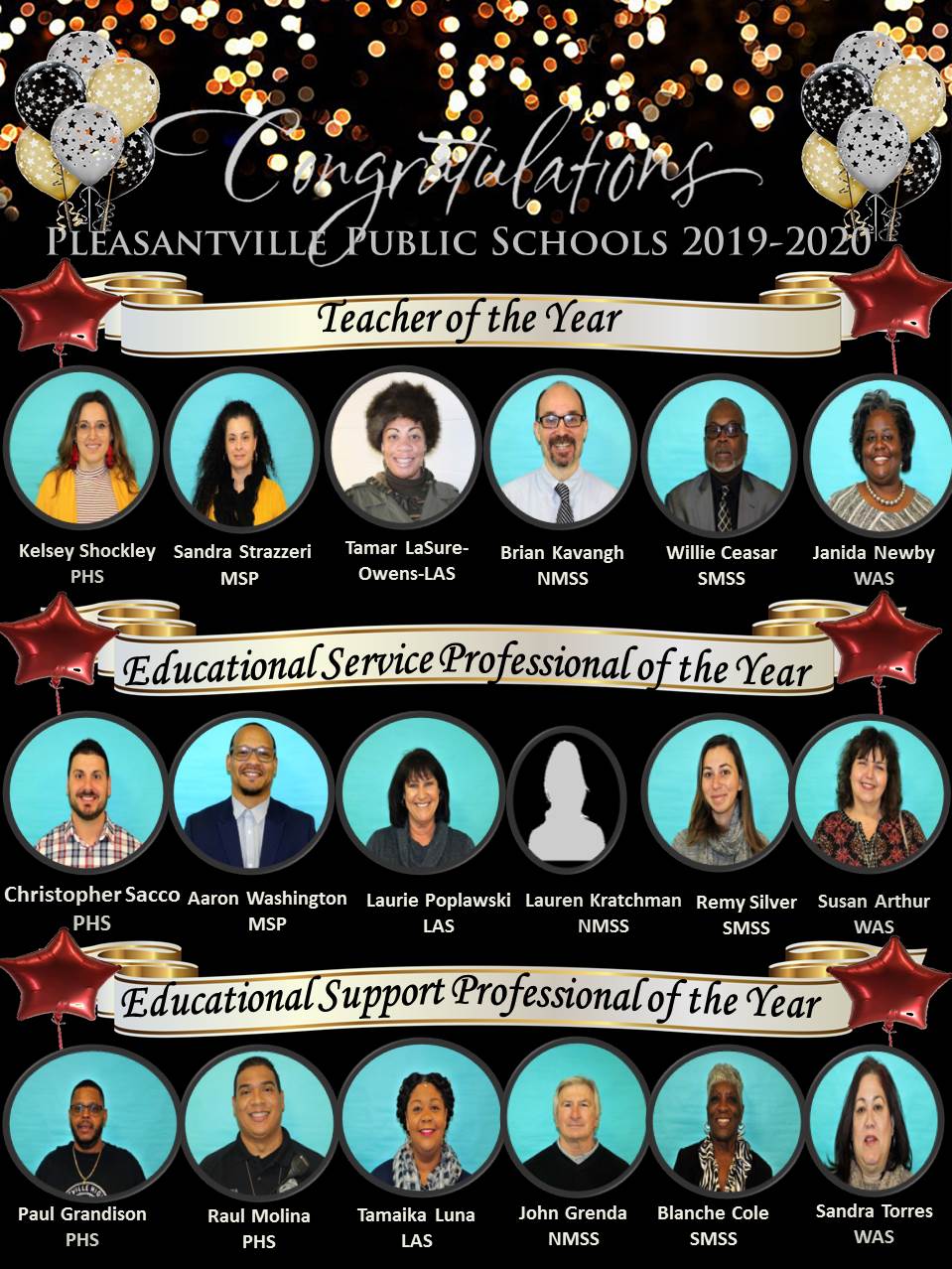 Professional guidance, assessment and an educational program are all available free for eligible children. For more information please contact the Pleasantville Public Schools District Child Study Team office at 383-6800 ext. 2240 or ext. 2241.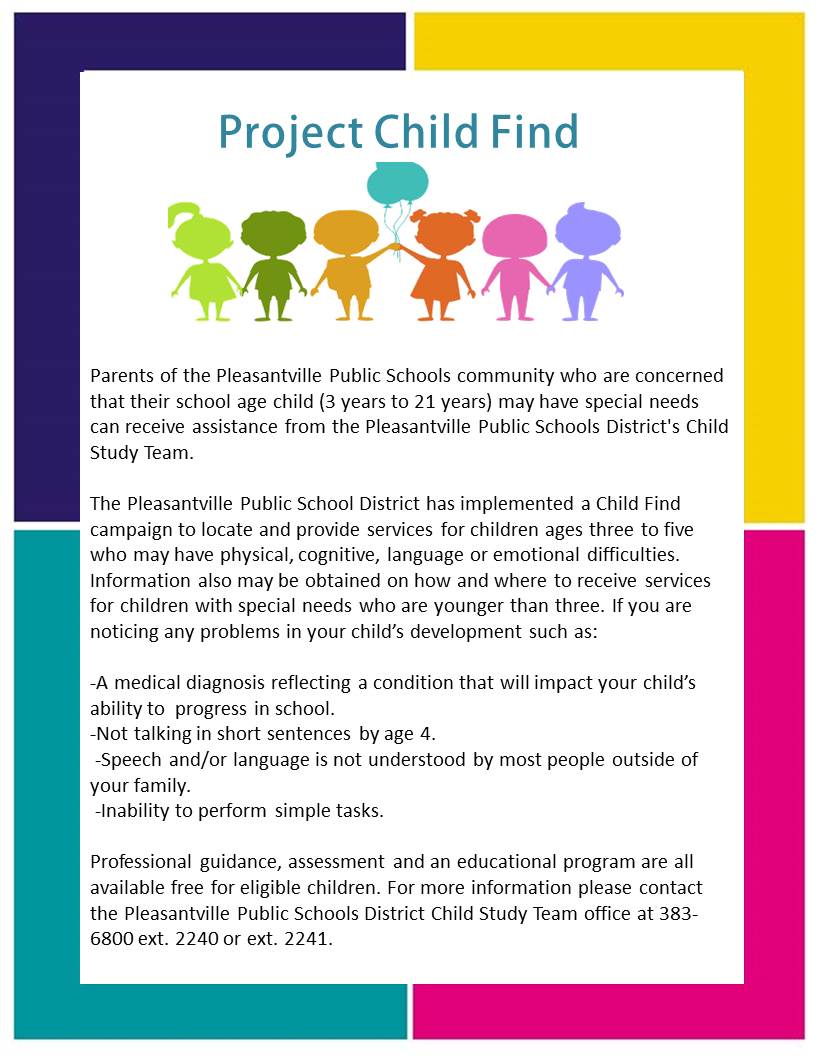 Attention! Pleasantville Public Schools Important Notice Regarding Road Construction.
Please click the links below for details.
IMPORTANT NOTICE REGARDING ROAD CONSTRUCTION
ON OR ABOUT MAY 14TH 2018 SOUTH JERSEY GAS WILL BEGIN
IT'S REMEDIATION PROJECT WHICH WILL INVOLVE SEVERAL
ROAD CLOSURES STARTING AT NORTH FRANKLIN BVD. AND
OLD TURNPIKE. THESE CLOSURES WILL EFFECT ALL TRAFFIC
INCLUDING ALL SCHOOL BUSES. PLEASANTVILLE TRANSPORTATION
STAFF WILL BE INSTRUCTING PARENTS AND STUDENTS TO ALTERNATE
PICKUP AND DROP OFF STOPS AS NEEDED. THANK YOU IN ADVANCE FOR
YOUR PATIENCE FOR THIS WILL CAUSE DELAYS THRU THE END OF THIS
CURRENT SCHOOL YEAR AND INTO THE UPCOMING SCHOOL YEAR.
SHOULD YOU NEED ANY MORE INFO REGARDING THIS PROJECT PLEASE
FOLLOW THE LINKS PROVIDED BY SOUTH JERSY GAS.