Advertised Budget 2015
Anti-Bullying Resources
21st CCLC - C.A.R.E
Compass Learning
Curriculum & Instruction
edConnect
Employee Evaluation Information
Employment
Employment Online Application Portal
Login to Outlook Email
Oncourse Access
Parents Right to Know
Parent - Student Portal
Photo Gallery
Purchasing
QSAC DPR
Statement of Assurances
Teacher Resources
Teachscape
Technology Service Request
Title IX
User Friendly Budget 2016-2017 (pdf)
User Friendly Budget 2015-2016
U: CEPA
WeatherNet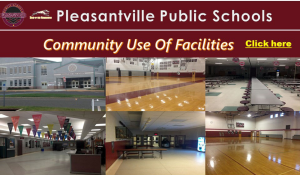 GUIDANCE DEPARTMENT

District Master Calendar
Board Meeting Dates
All meetings begin at 6:00 pm and are held in the Pleasantville High School Cafeteria.

The Pleasantville School District does not restrict or discriminate based on any race, color, sex, national origin or students with disabilities from participation in any district program, employment decisions or PHS career programs.
Coming Up!
Today:
Fri Oct 21
» 10:00 AM DAS - PHS Students "STAND"
Mon Oct 24
» Red Ribbon Week
Tue Oct 25
» 4:00 PM BOE Special Meeting - CANCELLED
Wed Oct 26
» 2:30 PM DAS - Required Flu Shots - 2:30pm - 4:00pm
Thu Oct 27
» 6:00 PM LAS - Hispanic Heritage Program
Fri Oct 28
» 1:15 PM SMSS - Hispanic Heritage Assembly
» WAS - Parade of Heroes
Mon Oct 31
» 1:15 PM DAS - Harvest Festival Parade
» 1:15 PM LAS - Parade of Heroes - Pre-K - 2nd Grades
» NMSS - Picture Day
» SMSS - Student Character Day